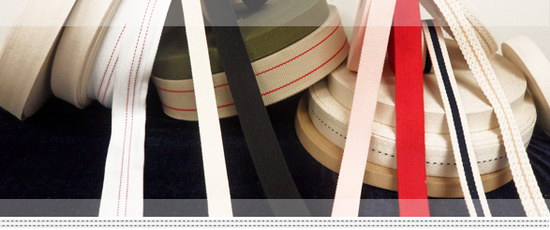 Woven Tape California
We manufacture woven and knitted tapes in a variety of widths, and designs for the accessories and garment industries. Our fancy woven and knitted tapes are made with lurex.
In the garment industry, woven and knitted tapes are used as a branding to market products. From waistbands to lanyards, California Webbing Mills can create a unique, one of a kind look that gets the word out for your business. Colors, shades, patterns, and pictures can be used to create the ideal woven and knitted tapes and ties for your garment products. We produce woven tapes and knitted ties in a variety of widths and designs. Some products are available for immediate order while others are produced based upon company guidelines. Companies requiring specific logos, patterns, or colors are encouraged to call us.
We can produce the quality woven tapes needed for your garments in small and large lots. California Webbing Mills creates all fancy knitted tapes and woven ties with lurex. Lurex is a metallic yarn that offers strength and chemical resilience. When the material comes in contact with high temperatures and chemical garment treatments, it stays intact and brilliant. Tapes and ties created by California Webbing Mills are available for export so companies all over the world can take advantage of the 20 years of experience offered by our company. Experts are available to talk with you today about the details of your order and design specifications for woven and knitted tapes and ties. Upon completion, the products can be shipped to address of your choice whether local or international.
In a world where branding is the key to success, tapes and ties are an inexpensive option companies can use to gain a leg up in a fierce market. Tapes and ties applied to garments, bedding materials, and footwear provide a constant connection between the consumer and the business, potentially reaching more new customers than many other forms of advertisement.
| | | |
| --- | --- | --- |
| Call for price | Call for price | Call for price |
| Call for price | Call for price | Call for price |
| Call for price | Call for price | Call for price |
| Call for price | Call for price | Call for price |