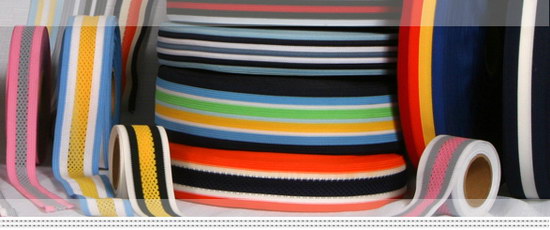 Latex Free Knitted Elastic
Knitting elastics are extremely popular due to the lower cost. Available in sizes from 1/8" to 32" wide, we offer a width for every project. Elastic materials can also be personalized with stripes, patterns, and prints upon request. If a more personal look is needed, feel free to contact us with your design specifications for more information.
The clothing industry is not the only business where gripper elastic is useful. Home design and décor companies often used gripper elastic to create products that work better in the home. Wider width gripper elastic can also be used as a backing for throw rugs, welcome mats, and area rugs to keep them from moving.
| | | |
| --- | --- | --- |
| Call for price | Call for price | Call for price |
| Call for price | Call for price | Call for price |
| Call for price | Call for price | Call for price |
| Call for price | Call for price | Call for price |
California Webbing Mills takes pride in the wide selection of knitted elastics available for immediate and personalized order.
We at California Webbing Mills offer a wide array of knitted elastics for your manufacturing needs. Typically, knitted elastic is used in waistbands, suspenders, belts, and sporting goods garments. Sweatbands, horse blankets, and elastic pockets are also manufactured with knitting elastics. At California Webbing Mills, we pride ourselves in offering materials in a variety of colors, black, white, and personalized patterns. Products available to order today, are often limited to specific colors, patterns, and stripes. Special orders are taken on kitted gripper elastic and knitted elastic. For questions, concerns, comments, or special order information, contact California Webbing Mills today. Special order contact should include a brief description of the project and details about the specific style of knitted elastics needed.