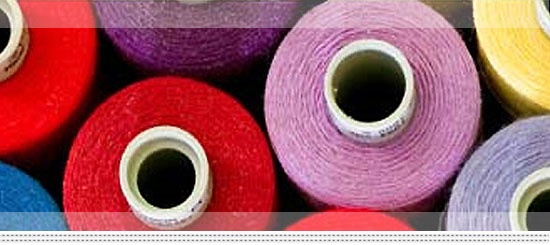 Close Outs
We buy and sell nylon, cotton, polyester, and polypropylene yarns.
We have access to first quality as well as odd lots, closeouts, and surplus yarns in natural, black, and colors. We buy left over yarn in acrylic, cotton, nylon, polyester, and polypropylene in a variety of combinations, i.e. mixed counts/colors per box, odd lots, or natural for export.
There are times when we make more webbing material than we need and at California Webbing Mills, making more means passing the savings on to our customers. The closeout section of the website is filled with a long list of webbing materials that can be used for an even longer list of home and commercial projects. As products sell out – inventory will change so check back often to find a great deal on your next webbing purchase.
California Webbing Mills offers covered yarn, nylon closeout yarn, closeout sewing thread, and closeout embroidery thread at significant savings.

Closeout yarn, including acrylic closeout yarn, spandex closeout yarn, and cotton closeout yarn will appear in our closeout section from time to time. You can expect to find huge savings at our loss. Some of the products we list on the closeout page include yarns in acrylic, cotton, nylon, polyester, and polypropylene. Mixed counts, odd lots and natural for export bulk quantities may be available. With an ever-changing array of cotton closeout yarn, nylon closeout yarn, and acrylic closeout yarn – you are in for a great deal. California Webbing Mills has access to closeout specials on odd lots and surplus supplies. When we buy materials at cheaper prices, we pass along the savings to our customers. Savings could mean paying a fraction of the cost or first quality materials.
Closeout lot quantities are limited, so check back often for new and exciting deals. At no point in time does the term closeout mean bad quality.

California Webbing Mills stands by all materials listed on the main pages and closeout pages of the website. All products are quality checked before being sold at reduced prices. Buying closeout yarns and other materials does not mean saving money in spite of quality. Closeout materials are perfect for small-scale projects or projects that do not require specific colors, shades, or patterns.

Whatever your needs, there is bound to be some closeout materials just waiting for you on the California Webbing Mills closeout page. For any questions about closeout specials at California Webbing Mills, feel free to contact us by phone, email, or mail. We also encourage comments and concerns about products listed on the closeout specials page.
California Webbing Mills is the perfect place to shop for all your yarn, thread, and webbing needs.