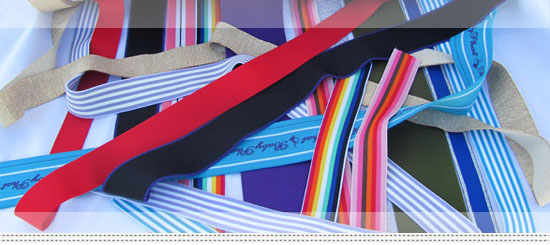 Jacquard Elastic
We are the leading manufacturer of jacquard elastics on the west coast of the United States. This type of elastic is of excellent quality, which in turn promotes its use in higher end applications. Our minimum order for this type of elastic is 1500 yards unless we have it in stock. This elastic is manufactured in different widths and can also be done as a fold-over. Below are just a few samples of our elastics. We welcome your inquiries about your specific sample.

Elastic is a stretching fabric that is typically used in the commercial or manufacturing industry. Sold in special order lots of 5000 yards, jacquard elastics can be used for waistbands, suspenders, straps, and footwear. Jacquard fabrics are often used in a more specific market like the footwear, intimate apparel, or sporting goods industry.
Smaller lots are available if we have the material in stock. Elastics are found all around us. Underwear, belts, bra straps, and shell holders in hunting vests all use elastic. It is important to note that woven elastics come in two varieties – fold over and flat. Fold over elastics easily fold when pressure is applied. These are typically used in situations that require comfort, such as underwear waistbands.
Elastics that do not fold-over are sturdier and hold taut when pressure is applied. Elastic can also be used in a woven pattern for furniture, high traffic seating, and automotive rebuilds. Weaving elastic is comprised of thicker width elastic that can be woven to increase strength and tension resistance. Once woven, materials are typically stretched and attached. The result is a high-tension strength material that bends and moves with everyday use. Elastics can be created from cotton, nylon, and polyester. Each material offers pros and cons including overall strength, stretch, and specific use environment.
Before choosing any elastic material, contact California Webbing Mills to ensure the materials used in the jacquard elastics is the right one for your project needs. Your project deserves the expert knowledge available from California Webbing Mills. We have been around since 2004, offering advice, materials, and support to businesses, commercial manufacturers, and people who have a need for webbing materials.

Please feel free to contact us with any inquiries or questions.