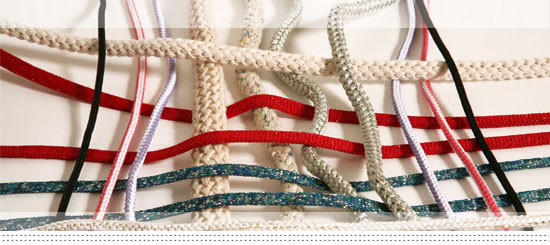 Elastic Cord California
We make flat cords, elastic cords, and regular round cords in different materials :
*Cotton
*Polyester
*Nylon
*Polypropylene
All of our cords are available in a rich variety of colors and specifications.
Very few people have any idea how often they use elastic cords, cotton elastic cords, or non-elastic cords in everyday life. Shoelaces, drawstrings, lanyards, and bungee cords are all created with different types of elastic or non-elastic cords. Thicker cords can be used for a variety of industrial and commercial uses, while narrower cords are typically chosen by clothing and sporting goods manufacturers.
| | | |
| --- | --- | --- |
| Call for price | Call for price | Call for price |
| Call for price | Call for price | Call for price |
| Call for price | Call for price | Call for price |
We at California Webbing Mills offer elastic cords for all projects great and small. At California Webbing Mills, nylon elastic cords, polypropylene elastic cords, and polyester elastic cords are available.
Each material offers a different set of benefits and price ranges.
Cotton elastic cords, for instance, are perfect for use in light wear situations like shoelaces. In cases of heavy wear and tear, synthetic fibers with natural UV protection like polypropylene are often a better choice. Tent materials, backpack drawstrings, and hiking laces are all used outdoors where weather, sunlight, and UV rays can degrade material quickly.

California Webbing Mills offers non-elastic and elastic cords for all environments and projects, both indoors and outdoors. We offer finishing services for our non-elastic and elastic cords. Finishing involves applying a tip to the cord. Tips are commonly seen in drawstrings and shoelaces. Professional tips reduce the chance of fraying during use.
We can cut materials to designated lengths and apply tips to one end or both ends based on customer preference. If elastic cords are needed for industrial or commercial use, as is the case with bungee cords and thicker elastic cording, we at California Webbing Mills can meet your needs. Professional finishing may be available for these projects as well, so contact us today about your next commercial or industrial elastic cord project.